Women's Sizing Chart
Coolibar's sun protection clothing is purposely cut full for a comfortable and easy fit. Designed to be worn in the sun and to provide excellent sun protection, our sun protective clothes are made with generous proportions for a loose fit. If you have any questions about size, fit or style, talk to one of our Customer Service Representatives at 1-800-926-6509. They'll be happy to help, as well as offer expert advice on coordinating sunscreen hats with your wardrobe.

Match your measurements (in inches) to the chart below. If your measurements fall in between two sizes, you may prefer the larger size. In general, fabrics and garments are shrink-tested, so order the correct size - it won't shrink! The only exception is our ZnO SUNTECT®fabric, which will shrink a little on first washing. However, you should still order the size shown in the chart below as items made of ZnO start a little over-sized to compensate for this small shrinkage.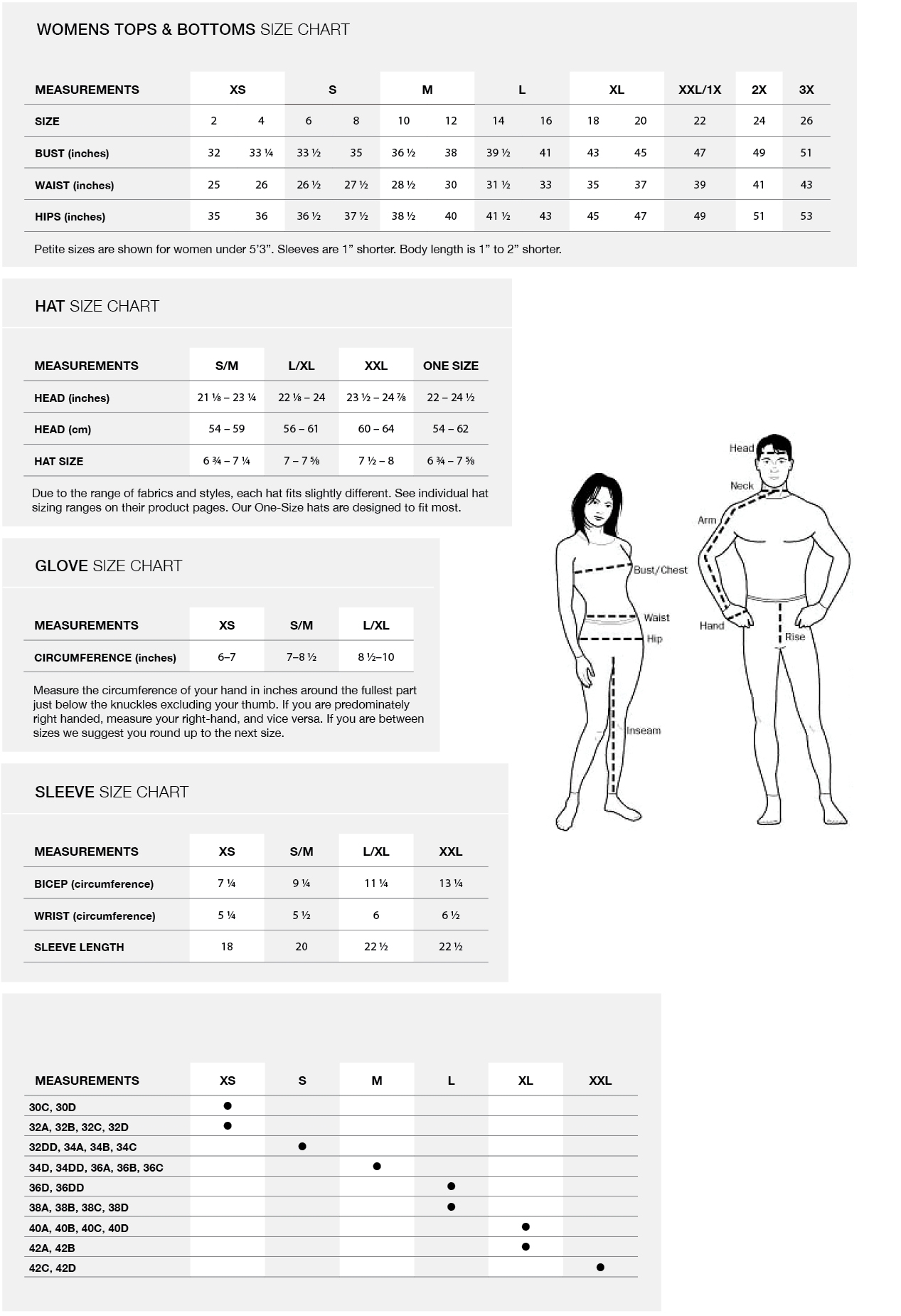 The measurements on our size chart are very similar to most major clothing companies. However, we generally allow for a relaxed fit - geared for outdoor activity, travel or a casual outing. Pants, skirts, blouses and polo shirts have extra room for comfort and are not body hugging.

When fitting jackets, cover-ups or any outerwear, our fit model is wearing the appropriate under layers that we would expect you to be wearing. You do not have to "size up" - we have done that for you.

HOW TO MEASURE YOUR RIGHT SIZE
Never try to measure yourself. Seek the help of a companion and use a soft tape measure.

Height: Stand in stocking feet, with feet together, back to the wall. Measure from top of head to the floor.

Arm: Bend arm to 90 degrees. Place hand on hip. Start at center of back of neck. Measure across the shoulder to the elbow and down to the wrist. Number of inches equals your sleeve length.

Bust/Chest: With the arms relaxed down at sides, measure fullest part of bust/chest, keeping tape parallel to floor.

Hip: Stand with heels together, keeping tape straight and parallel to the floor. Measure around fullest part.

Neck: Measure around base of the neck (the lowest point of the neck). Number of inches equals the neck size.

Inseam: Take a pair of pants that fits you well. Measure from the crotch seam to the bottom hem. Number of inches equal inseam length.

Rise: Start the tape at the center back waist, run the tape between your legs, pulling comfortably at the crotch and up your natural waist. Total measurement is your rise.

Waist: Measure around your waist, against your skin (not over your shirt or pants) at the height you normally wear your pants.

Head: Measure around your head, from the center of your forehead, keeping tape straight and parallel to the floor. Measure around fullest part.

Hand: Measure circumference of hand around fullest part just below the knuckles, excluding thumb. Use right hand if right-handed, and vice-versa. Measure hand in inches and refer to the sizing chart for your glove size. Use the larger number to determine your size.