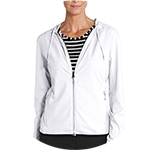 Cover Your Torso & Arms.
A long sleeve shirt that covers shoulders and extends over forearms and hand tops (when possible) provides strong upper chest and arm coverage. Look for thumbholes, longer cuffed sleeves, zippers that go to the top of the shirt collar, mock turtleneck or mandarin style collars where possible.

We can't find products matching the selection.