Isn't My Cotton Tee Enough
0
Isn't My Cotton Tee Enough? In a word, no.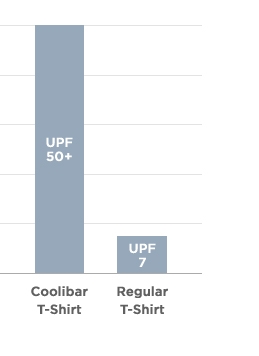 A cotton tee won't safeguard us at the beach, let alone on the street. Dry, a white cotton shirt provides an ultraviolet protection factor (UPF) of 7*, and, when wet from the pool, the protection level drops to about UPF 3, exposing us to UV radiation.

Today, 90% of skin cancers and premature aging are a result of UV exposure. Coolibar's ZnO t-shirts, polos, tunics, cover-ups, dresses, hoodies and pants are super soft, comfortable and UPF 50+, blocking 98% of UV rays. All our fabrics are guaranteed UPF 50+, from the first ime you wear a shirt to the day you retire it.

*Source: The Skin Cancer Foundation

Since UV damage is cumulative and irreversible, starting kids and teens with UPF clothing is a smart health habit. With super soft fabrics like our proprietary ZnO, they can fall in love with Coolibar tee-shirts that keep them safe year-round. Or by considering our Aqua swim suits and swim fabrics, the pool is a safe haven for swim lessons.
Why are clothes called UPF instead of SPF?
Between UPF and SPF, the concept is essentially the same, to protect your skin from ultraviolet radiation. What SPF is to lotions, liquids and serums, UPF is to fabrics and clothing. SPF only measures sunscreen protection from UVB rays, the burning rays. When applied correctly, SPF 30 blocks 97% of UVB rays. UPF 50+ measures light transmittance, blocking 98% of UVA and UVB rays. Coolibar fabrics exceed all U.S. standards and area tested to the highest rating standard in the world.
How is Coolibar ZnO t-shirt fabric developed?
ZnO is our unique blend of cotton, bamboo viscose (a natural UV fighter) and spandex fabric, embedded with millions of zinc oxide minerals at the fabric level. Zinc Oxide protects again UVA and UVB rays and has many skin comforting qualities, often used on the most sensitive skin types. So soft and soothing, a Coolibar ZnO shirt will easily become your new "old" favorite tee.