Full Finger Gloves UPF 50+

The Coolibar Ultimate Coverage shield indicates styles used to cover the majority of your skin with UPF 50+ protection. Combine items flagged with this shield to create outfits that effectively cover 90% of your exposed skin while blocking 98% of UVA/UVB radiation.
UPF 50+
Unisex
Lycra® elastane provides four way stretch and form fit
Durable and lightweight
Breathable knit fabric
Form fitting and lightweight enough to do most small-motor tasks
Full wrist coverage for added protection
Supplex® nylon feels cottony soft
Water resistant high tech sport fabric wicks away moisture
Small pliable silicone ovals integrated seamlessly into the palm side to provide users with a secure grip
Easy care: Machine wash, dry low heat or line dry
Imported
The Unisex Fingerless Gloves are wrist length, half finger gloves that guard against sun damage, scratches, and irritants. Covers and protects chronic skin conditions while providing snug support. Fingertips remain open for excellent dexterity. Benefits people with arthritis, eczema, vitiligo, sun sensitivity and contact dermatitis. This glove is especially helpful with day to day tasks and is excellent as a driving glove.
FORM FITTING UNISEX GLOVE SIZE CHART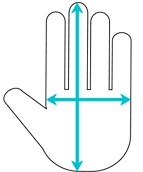 MEASUREMENTS
S
M
L
WIDTH (inches)
2 1/2
3
3 3/4
LENGTH (inches)
6 1/2
7
7 1/2
Width = Across palm
Length = Tip of middle finger to base of palm

All Coolibar fabrics have been approved as an effective UV protectant for covered areas. Coolibar is the first clothing company to receive The Skin Cancer Foundation's Seal of Recommendation.