Women's Monte Carlo Maxi Skirt UPF 50+
Women's Monte Carlo Maxi Skirt UPF 50+
is rated out of
5
by
78
.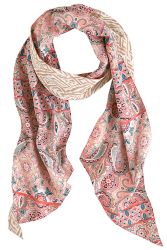 ---
Blocks 98% of UVA/UVB Rays
Protection Never Washes Out
---
Features
Breezy and beautiful long skirt with an elegant drape and feminine details designed to protect your legs in the most fashionable way. Featuring a sleek, contemporary look with an elasticized waistband in back, side seam pockets and side vents at the hem, this Monte Carlo Maxi Skirt is light and cool in our luxurious Aire fabric. Bring a romantic edge to your style with our rich colors and enjoy the effortless dramatic flair this piece brings to your wardrobe.
UPF 50+
Side seam pockets
Elastic waistband
Side vents at skirt hem
Aire™ fabric: Luxurious, silky fabric with beautiful drape, feather-light and breathable with built-in stretch.
Size & Fit
40" skirt length (all sizes)
Sun Fact
More than 419,000 cases of skin cancer in the US each year are linked to indoor tanning.
- American Skin Care Foundation
Fabric
Aire™ Fabric
Our exclusive Aire fabric is the only luxury UPF 50+ fabric available. This feather-light fabric feels like silk and rolls down so compact it easily fits in a carry-on or weekender tote. Specifically developed to tolerate hot, humid days while looking cool, it's breathable with built-in stretch for a beautiful drape.
100% Polyester
Recommended by The Skin Cancer Foundation
All Coolibar fabrics have been approved as an effective UV protectant for covered areas. Coolibar is the first clothing company to receive The Skin Cancer Foundation's Seal of Recommendation.
Recommended For
packing light, keeping comfortable and looking elegant in humidity and tropical weather
Not Recommended For
swimming, not chlorine and salt water resistant or water repellent
Care Instructions
Machine wash cold, tumble dry low
Women's Bottoms Size Chart
Size
Waist
in inches
Hips
in inches
XXS 0-00
23½–24½
33½-34
XS 2-4
25-26
35-36
S 6-8
26½-27½
36½-37½
M 10-12
28½-30
38½-40
L 14-16
31½-33
41½-43
XL 18-20
35-37
45-47
XXL 22
39
49
2X 24
41
51
3X 26
43
53
Size
Waist
in cm
Hips
in cm
XXS 0-00
60-62
85-86
XS 2-4
64-66
89-91
S 6-8
67-70
93-95
M 10-12
72-76
98-102
L 14-16
80-84
105-109
XL 18-20
89-94
114-119
XXL 22
99
124
2X 24
104
130
3X 26
109
135
Size guide
Rated

5

out of

5
by
PamelaM
from
Back for my 4th one!
I'm a teacher and spend a lot of time out on the HOT playground. These skirts are absolutely worth the price. I had melanoma a few years ago and have purchased many items from Coolibar now. Not only are these skirts super-comfortable, they are breezy cool and beautiful! In addition, I wear a 3X and they are still roomy and comfortable. Thank you so much Coolibar for thinking of us round ladies too! :-)
Date published: 2021-04-19
Rated

5

out of

5
by
GreekNike2020
from
A Skirt with Pockets!
One word: pockets! A skirt with pockets is 100%! The light fabric is comfortable, and the side vents add some fancy!
Date published: 2020-12-11
Rated

4

out of

5
by
drgngems2013
from
Long on this short gal, but worth it
Love this skirt! Flows well. Only wish it came in petite!
Date published: 2020-11-11
Rated

5

out of

5
by
Anonymous
from
Love Fabric and Versatility
Very light, comfortable fabric. Love the slits-makes a very walkable, versatile skirt that one can wear over several seasons.
Date published: 2020-10-06
Rated

3

out of

5
by
byMiha
from
love the color and patterns, overpriced
The fabric is light and silky but very static where is sticking to your legs the whole time. Is very baggy because of that elastic portion in the back... but for some reason I still like it. I feel like is going to protect my legs at the beach and is a good fabric to get wet, it will dry very fast. Love the pockets:) and I returned the M I ordered, too big for me. I hope thay process everything in time so I can get the xxs left. I think S would be my size(I am 5,2) but because is so baggy I hope xxs to work. The price is exaggerated!!! all the swim stuff here are well worth it, I have been using them for years intensely in my travels with lots of water activities, and because of high quality I still have them.... but this skirt and probably other clothes are just super duper pumped priced.
Date published: 2020-09-07
Rated

3

out of

5
by
Anonymous
from
Too big.
It is quite large overall. I had to return, although the skirt was lovely. My size is 2 or 4.
Date published: 2020-09-05
Rated

5

out of

5
by
ValVal1
from
A slimming look, comfy & silky, perfect size
Incredible. Fits perfectly, is true to size, & feels Silky.. It slims you down visually, you'll get compliments on Pattern style; " you've lost weight, haven't you?" (The size 18 Looks like a 16)! I have t hff e brown & white pattern.
Date published: 2020-09-01
Rated

1

out of

5
by
Anonymous
from
Goodbye Coolibar
The fabric is very cheap looking! It is very difficult to get the wrinkles out. For the price it is junk!
Date published: 2020-08-23
Rated

2

out of

5
by
M Bryant
from
Thin Material
While the material looks great online, I was disappointed to find out that it was extremely thin. I was hoping to be able to dress this up or down, but it is limited to beach cover up only. I have returned. Fortunately I love the other items I ordered, so not a total loss!
Date published: 2020-08-06
Rated

4

out of

5
by
ItsJustme
from
Light and Cool Comfort
This skirt is perfect for warm summer weather. I have 2 blouses in this same fabric and love it! It washes well- I wash in cold water and hang to dry- and it is virtually wrinkle free. The skirt has side pockets, tailored waist band in the front and elastic back so it slips on and off easily without zippers or snaps. My only complaint is that it doesn't come in a petite length. I'm 5'3", 138 and Size M fits perfectly, but I had to hem about 4 inches for ankle length. I am curvy and the medium is straight cut but not too tight in the hips or bottom for me.
Date published: 2020-07-12
Rated

5

out of

5
by
Natalie K
from
Love it!
Light and breezy fabric. Love pockets! Wish thet were a bit deeper. The skirt is very long - but it's easy fix by shortening. I'm 5'7" and do not feel comfortable wearing it without heels.
Date published: 2020-06-17
Rated

4

out of

5
by
patalec
from
static
I really like the skirt but I can't seem to get rid of the static cling. Sure wish I could figure out how to solve this problem. Any help would be appriciated.
Date published: 2020-05-24
Rated

5

out of

5
by
DLE consumer
from
Love these skirts
I love these skits. They are so light and cool. Best of all they have pockets. I live in Arizona and this if my go to summer outfit. I have three of these skirts. I looked at the new skit option but they don't appear to have pockets. I will stick with this style.
Date published: 2020-05-11
Rated

3

out of

5
by
Anonymous
from
Beach Wear
Not a great fit based on measurements. Need to return for smaller size.
Date published: 2020-03-17
Rated

4

out of

5
by
tbutera521
from
Loved the print
I tried it on, but it's still winter here. I am taking it to Italy this Fall.
Date published: 2020-02-18
Rated

5

out of

5
by
Justbuyit
from
Love these skirts
I have several of these skirts. The newest in green Moroccan is so so pretty. I wear these everywhere, even along the shore. They are cool and comfortable, and the new Matiz capris or leggings can be worn under for cooler days. I find that my ZNO tank tops look really nice with the maxi skirts. This is a very nice skirt.
Date published: 2020-02-13
Rated

3

out of

5
by
PDXCDN
from
Needs wider elastic waistband
I love the length and cool flowing material. Pretty pattern. My only complaint is the waistband elastic would lay so much more flattering if it was wide and flat. The narrow elastic at waist isn't as flattering as it could be if you have a little extra padding around your midsection. I wouldn't size up to fix as the rest would fit too large. I will keep it, but definately needs to be pulled lower on my hips or with a longer top.
Date published: 2019-11-11
Rated

5

out of

5
by
Fontana
from
Nice material
Love the material. It feels cool for hot weather. It has pocket as well.
Date published: 2019-09-21
Rated

5

out of

5
by
Sambolulu
from
Great Skirt w/ Pockets!
This is a wonderful skirt and I bought it BECAUSE it is long and has pockets. Any of you who want to make it shorter have plenty of options elsewhere, go find them! It is elegant if you want it dressy, it is casual if you want it casual, all depending on what you pair it with. Very comfortable and light weight and protective. I am 5.5ft 143 lbs and the M fits perfectly. I am intending to loose just a bit of weight and it will be fine then too. I only wish they made this skirt in white. I would definitely buy it in white.
Date published: 2019-07-12
Rated

5

out of

5
by
Zazie
from
Slimming, love it
At 5'4'', 39.5 hips, 28" waist, after reading the reviews I selected the XS but I ordered the S as well, just in case I was too optimistic. The S had too much material, the XS fits perfectly: super smooth line, slimming, perfect. I had it shortened. Very happy with this minimalist, clean line, delightful material, skirt. My issue is to find a top that matches. Most of the Coolibar tops reach and cling to my lower hips, so not as flattering. I wish Coolibar had shortened, preferably straight cut or even a bit Aline tops (not shirts, tops without a collar) so that they do not cling to the skirt or pants, that would look really good with this slimming skirt
Date published: 2019-07-07
Rated

1

out of

5
by
Jenn W
from
way too big
I have bought several items from Coolibar over the years, but this skirt in XS was way too long and very baggy (extra material) at the waist. I wish it was much shorter in length. Material very light and airy. I am 5'3' so not super short.
Date published: 2019-05-08
Rated

5

out of

5
by
Bunnyosh
from
Coolibar has all other companies beat with this!
Nothing compares with this fabric or design (and I've been wearing light protective loathing exclusively for about a decade, maybe longer. I'll never buy from another company again if Coolibar keeps making these clothes—the Monte Carlo maxi and the Santa Barbara tunic). When I tried the first outfit on of these I was so happy that I bought 5 sets, 2 interval jackets and a nice black hat to top things off (Coolibar has the best selection of hats, too).
Date published: 2019-04-01
Rated

3

out of

5
by
Leah Kennie
from
Great Features!
I ordered an XS and this skirt was super baggy on me. It fit around the waist but there was a lot of extra fabric in front. Love how light the fabric is and it's super soft and comfy but just looked frumpy on my body shape. (I'm normally an XS or 0 in skirts)
Date published: 2019-03-26
Rated

5

out of

5
by
Bunnyosh
from
Light as silk—runs 1 1/2 sizes larger than spec
Light as a feather, soft as silk and beautifully made, this skirt is the definition of sun-protective, every day elegance. Having severe photosensitive lupus, I need to wear black (it's best for blocking UVB rays) light-protective clothing all the time and the Monte Carlo skirt and top are the best clothes I've found yet (of course it doesn't hurt that I'm a huge fan of Coolibar's hats, too! Usually I wear the Monaco, but I just bought the Wide brim straw hat in matching black to compliment the outfit and it's really pretty!). One caveat, though, the skirts run about 1 1/2 sizes larger than described, so you may want to try a smaller size (or two) or have your skirts tailored.
Date published: 2019-02-28
Rated

5

out of

5
by
Justbuyit
from
Beautiful and goes almost anywhere
I have one of these skirts that I've worn to dinners, the beach, shopping. I love it so I ordered the brown tropical island print. It is gorgeous! And yes, I will wear it almost anywhere and be happy that my legs are well protected and even if it gets wet in the surf at the beach, it will rinse out easily, dry quickly, and look like new. Highly recommend!
Date published: 2019-02-08
Rated

5

out of

5
by
Connie53
from
Love it!
The skirt fit well and is so light weight it is unbelievable! I wore it to the zoo on my grandson's school field trip and felt cool as a cucumber! I love how it looked too! It washed well.
Date published: 2018-07-03
Rated

1

out of

5
by
Mery
from
very big for an S and looks like a garbage bag
OMG didn't like this at all. Have to agree with another reviewer that it looks like a plastic bag. Cannot agree with the quallity and the price you pay for this skirt. Another thing, it is made in India. I know coolibar clothing are highly praised for being sun-protective but it doesn't mean they have to be expensive. I can agree on the price tag if they are ethical or fairtrade but it doesn't list on their website at all. I am little horrified off the living conditions that the workers go through and how they are taken care of as human beings. So coolibar take a step further if you dont mind. The only thing that I agreed on in therms of quality are Women's Long Sleeve T-Shirt UPF 50+ everything else in my order, I didnt like. I ordered with the leggings, the Women's Maxi Skirt UPF 50+ and Women's Marina Sun Hat UPF 50+. In Norway we have very strong sun (not warm) so I hope to find other brands that provide more ethical options in sun protection.
Date published: 2018-06-15
Rated

5

out of

5
by
Lorianntk21
from
Awesome light skirt!
I purchased the black version and this one and absolutely love them both! The pattern has colors that match just about every shirt color Coolibar has to offer. Its VERY light, thin and airy, and packs well for traveling. Very pleased.
Date published: 2018-05-16
Rated

4

out of

5
by
Kapw
from
Love this pattern
The Large i ordered was too big overall, and way too long. The medium i exchanged for was still too long. The fabric is perfect for warmer temps, very lightweight.
Date published: 2018-04-19
Rated

3

out of

5
by
Kapw
from
Very lightweight for warmer temps
I originally ordered a large, which was way too big, i exchanged for a medium.. which was still too long, im 5'4 3/4", and 150 lbs. i know a small would probably be too tight. I have to wear full compression hose due to lymphedema, so glad to have options for sun protective skirts to be a bit dressed up.
Date published: 2018-04-19