Women's Verona Straight Leg Pants UPF 50+
Women's Verona Straight Leg Pants UPF 50+
is rated out of
5
by
155
.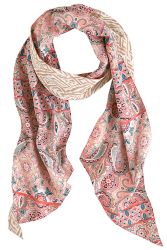 ---
Blocks 98% of UVA/UVB Rays
Protection Never Washes Out
---
Features
A certain sophisticated fit for casual, do-anything days. The Verona Straight Leg Pants are fitted through the hip and thigh for a look that's sleek yet effortless, and the self fabric waistband is clean and unruffled.
UPF 50+
Sits just below waist
Straight leg
Border print leg hem
Aire™ fabric: Luxurious, silky fabric with beautiful drape, feather-light and breathable with built-in stretch.
Sun Fact
It takes only one blistering sunburn, especially at a young age, to more than double a person's chance of developing melanoma later in life.
- Melanoma Research Foundation
Fabric
Aire™ Fabric
Our exclusive Aire fabric is the only luxury UPF 50+ fabric available. This feather-light fabric feels like silk and rolls down so compact it easily fits in a carry-on or weekender tote. Specifically developed to tolerate hot, humid days while looking cool, it's breathable with built-in stretch for a beautiful drape.
100% Polyester
Recommended by The Skin Cancer Foundation
All Coolibar fabrics have been approved as an effective UV protectant for covered areas. Coolibar is the first clothing company to receive The Skin Cancer Foundation's Seal of Recommendation.
Recommended For
packing light, keeping comfortable and looking elegant in humidity and tropical weather
Not Recommended For
swimming, not chlorine and salt water resistant or water repellent
Care Instructions
Machine wash cold, tumble dry low
Women's Bottoms Size Chart
Size
Waist
in inches
Hips
in inches
XXS 0-00
23½–24½
33½-34
XS 2-4
25-26
35-36
S 6-8
26½-27½
36½-37½
M 10-12
28½-30
38½-40
L 14-16
31½-33
41½-43
XL 18-20
35-37
45-47
XXL 22
39
49
2X 24
41
51
3X 26
43
53
Size
Waist
in cm
Hips
in cm
XXS 0-00
60-62
85-86
XS 2-4
64-66
89-91
S 6-8
67-70
93-95
M 10-12
72-76
98-102
L 14-16
80-84
105-109
XL 18-20
89-94
114-119
XXL 22
99
124
2X 24
104
130
3X 26
109
135
Size guide
Rated

5

out of

5
by
ShelbyGT
from
Wonderful Pants
I bought these pants with high hopes and have not been disappointed. They are absolutely great! I am so comfortable in these and can rest assured with the Coolibar name I'm protected from harmful sun rays. I have Lupus and find that Coolibar is my go-to for great sun protection, quality and style. Thank you for providing a much needed niche in fine and stylish clothing and not just a fishing shirt!
Date published: 2019-05-30
Rated

1

out of

5
by
LLW1
from
Horrible material
The material was horrible and so was the fit. I would not recommend
Date published: 2019-05-30
Rated

5

out of

5
by
Suzanne 7
from
love them!
I love these pants! Dress them up for evening wear, dress them down and go sailing! I am buying a second pair (both white) and will continue to wear them often. I am a mid 70's woman living in the Florida Keys.
Date published: 2019-04-03
Rated

1

out of

5
by
Rosie76
from
Granny Pants
I bought these pants with the hope that I would have a light weight pair of pants which would protect me from the sun. I'm usually a size large but took other reviewers' advice and ordered a size smaller. The medium was still baggy. The elastic waist band unattractive. I am a 76 year old granny and will not wear these 'granny looking' pants. Returning them by mail cost me just under $9.00 Canadian. In other words that was the price of trying them on something one can do for free in a store. Will not order bottoms from Coolibar again because of the cost to return them.
Date published: 2019-02-10
Rated

5

out of

5
by
JJPA
from
Love these pants... re-styled.
I recently bought these pants in white. The fabric is heavenly. However, in a small they were baggy & shapeless (5'8", 128 lbs.). I took them to my fav seamstress & reshaped them to be slimmer at top & kind of flared at bottom. Now I LOVE them!
Date published: 2018-12-21
Rated

5

out of

5
by
Mskitty15
from
VERY NICE!
The pants are beautiful and very light weight. Looking forward to wearing them! I'm a size 10 & bought the small, fits great, not too tight!
Date published: 2018-12-13
Rated

5

out of

5
by
Aussie4sunmum
from
Light weight
Huge pants, I know now to go down 2 sizes from recommended in size chart.Aussie sizes must be different. The pants are a delight to wear and cool even in our humid up to 40 degrees weather. Coolibar are an efficient American online store to transact with but free postage is very rare.
Date published: 2018-12-02
Rated

5

out of

5
by
Sonja
from
Feels great in hot weather!
I have skinny legs and I like the fact that these pants are light and flowy. I finally found a pair of pants that I feel protected from the sun so that I can finally enjoy playing golf again in the heat of summer. Add a pair of wedges when I'm finished and I have a cute outfit to wear to dinner.
Date published: 2018-08-19
Rated

5

out of

5
by
NJNelson
from
SUMMER BREEZE!
If you understand what you want and what you are getting with these pants you will be absolutely delighted! They are light weight, slightly stretchy, cool as a summer breeze. I wear neutral colored undies and they are just fine. If you want something super light and cool for wearing around town or for a walk on the beach and you don't want to lather up in sunscreen-these are the pants for you. Size down and you won't be disappointed. I love them! I have three pair! Black, White and Patterned Blue. They pack up like "nothing" in your suitcase too!
Date published: 2018-08-14
Rated

3

out of

5
by
catbird2
from
Nice but too large! and no pockets is downside
I usually wear Medium size just fine, but this medium is too large especially around waist. And I really miss having pockets (zippered ones are preferable but at least open side slash pockets please.
Date published: 2018-07-30
Rated

5

out of

5
by
No nicknamr
from
Cool pants
I really like these pants, I have paired them with a few different tops to dress up or dress down. I love them being sunscreen because of having to go outside in the sun and they are not "sporty", can wear to dressier events. I did have to shorten them a little, but it wasn't hard to do.
Date published: 2018-07-28
Rated

3

out of

5
by
Brbara
from
Nice fabric, but really big
I really like Coolibar products and XL is usually the correct choice and I like things a little loose. These pants were way too big for even leisure wear. I would recommend to a friend but suggest downsizing.
Date published: 2018-07-18
Rated

5

out of

5
by
Frances53
from
Cool and Comfortable!
Cool, comfortable, and look great for beach or dinner out! Am ordering 2 more pair as I will be wearing these all summer!
Date published: 2018-07-11
Rated

5

out of

5
by
lorichfr
from
So lightweight and comfortable!
I bought these yesterday and put them on immediately. I sat by the lake in 90 degree heat and just loved the way my skin was covered from the sun but I could feel the breeze through the pants. I received many compliments on them and can't wait to wear them again. I usually wear XL but the Large fit perfectly.
Date published: 2018-07-06
Rated

2

out of

5
by
MaureenW
from
Can read the newspaper through these pants.
Very disappointed. The fabric is very thin. Anticipated better quality.
Date published: 2018-06-28
Rated

5

out of

5
by
Krich2000
from
Perfect fit!
I bought these pants to replace my wind pants I've have for 15 years. I ordered a Small and it was a little large. Generally a Small fits perfect in every item. I made the mistake of taking the tags off and throwing them away. Anyway, I decided to order an XS just to see if it was a better fit. And it was a perfect fit with a bit of room to spare! I'd love to order another pair, but I'm afraid I'm stuck with the Small. But back to the pants. The fabric it so nice. So thin. You can even feel then pants when you have then on. Seriously! Perfect for hot weather! Packs well also. No wrinkles.
Date published: 2018-06-11
Rated

5

out of

5
by
Misskitty15
from
Gorgeous!
I was hesitant to buy these because of the reviews. First I bought the Spanish mosaic in medium. I usually wear a medium in pants or a size 10. The color & design are beautiful but we're too large so I re-ordered a small & it fit perfect! I can't wait to wear them! I need some tops to go with them! (Hint hint)
Date published: 2018-05-24
Rated

1

out of

5
by
Cheltnam Child
from
Fabric is too thin and "see through"
I wear Coolibar Clothes 90% of the time due to the fact that I have Sun-sensitive Systemic Lupus. I was looking forward to wearing these trousers in business and more formal settings The fabric on the black pants is so thin that underwear lines and sock lines are obvious. I am very disappointed in the quality of these particular pants as a result.
Date published: 2018-05-20
Rated

5

out of

5
by
Susi Z
from
Perfect For Warm Weather!
I love these pants. They are easy to put on and fit very well. The fabric feels silky and soft and is light weight which makes the pants perfect to wear in warmer weather. I love the straight cut that's very attractive yet not clingy. The SPF 50 is the cherry on top!
Date published: 2018-04-24
Rated

1

out of

5
by
Olga_T
from
Poor fit
You can only wear those pants at home. It looks like a giant garbage bag on me. And I wear XS.
Date published: 2018-04-20
Rated

5

out of

5
by
Coolibar Happy
from
Classy Pants
Like the fit and they are the perfect weight for hot summer days. Can easily be dressy with the right shoes.
Date published: 2018-04-18
Rated

2

out of

5
by
Travel fool
from
Wanted to love!
These were SO light and comfy...however they are terribly unflattering! Won't be wearing them again. :(
Date published: 2018-04-16
Rated

4

out of

5
by
TennisTime
from
like silk pajama bottoms
It's not warm enough to wear these in Colorado yet, but they'll be great when it is. They feel like thin silk pajama bottoms. I'm 5'9" 140lbs and the small fit, but the med fit a little better (looser in waist, so they fell longer to a better length). The white ones aren't see through w/ skin toned underwear. I'm a little concerned about getting them dirty though...
Date published: 2018-03-31
Rated

1

out of

5
by
Rory
from
Horrid
I bought a pair of these when Coolibar discontinued the lounge pants. A very expensive mistake on my part. The felt like a really cheap slip. Static and wrinkles. Very disappointed. Not something I could - or would - wear ANYwhere.
Date published: 2018-03-14
Rated

1

out of

5
by
alla
from
Way too big
I tried the pants on and they appeared to be way too big. Now I am thinking about whether sending them back or going to the tailor and adjust them to my curves, because I am not sure one size smaller pants will fit me well too.
Date published: 2018-03-12
Rated

1

out of

5
by
MacL
from
So disappointed in the fit.
I just received these pants and am so disappointed in the fit. Per the size chart I was in the middle of the size small measurements, so that is what I ordered. But when I put them on, they are loose in the waist and baggy in the butt. There is no styling to them at all. I am 5'7", 130lbs. These look like a loose bag on me. I like the fabric but will have to return them. I hope I don't have to pay return shipping. I feel they are not as advertised.
Date published: 2018-03-11
Rated

5

out of

5
by
Nelbg
from
Trip friendly
I have these in black and white.. took them to Mexico and wore them constantly.. light and airy, washed and dried overnight..ridiulously comfortable..perfect!
Date published: 2018-02-28
Rated

5

out of

5
by
Blunoser
from
Light as air!
I live in a sub-tropical climate and these pants are perfect for hot, humid sun protection. I bought them in white and I don't find they are too see-through, although I usually wear tunic style tops to cover my butt. I traditionally wear size 12 and bought them in Large, they are very roomy in the waist but I like that.
Date published: 2018-02-21
Rated

5

out of

5
by
Nhad
from
Great for warm climate
I wore these pants with rash guard top over swimsuit for boat trip and avoided sunburn. Also wore to dinner with silk top. Also wore to sleep in cool room. Fit is loose, little wrinkling. An all purpose item.
Date published: 2018-02-12
Rated

2

out of

5
by
Susan J
from
Very thin fabric. I should have returned.
The fabric is very, very thin and too short. I'm 5'6", 143 pounds and purchased a size S. I'll use them as pajama bottoms.
Date published: 2018-01-26