Unisex Fingerless Sun Gloves UPF 50+
Unisex Fingerless Sun Gloves UPF 50+
is rated out of
5
by
68
.

The Coolibar Ultimate Coverage shield indicates styles used to cover the majority of your skin with UPF 50+ protection. Combine items flagged with this shield to create outfits that effectively cover 90% of your exposed skin while blocking 98% of UVA/UVB radiation.
UPF 50+
Unisex
Silicone print on palm and fingers for added grip and dexterity
Soft, comfortable, 4-way stretch mesh construction
Ultra lightweight
Sold as a pair
Active SUNTECT®: Lightweight and breathable with moisture wicking for quick dry performance
Cooltect™ technology accelerates moisture wicking
White & Charcoal Blocks 98% of UVA/UVB rays; Other Colors Block 94% of UVA/UVB rays
Polyester/Spandex Blend
Easy care: machine wash, tumble dry
Imported
Recommended for achieving Ultimate Coverage in Sun Protection while participating in outdoor activities wearing UPF 50+ clothing.
Avoid swimming, not chlorine and saltwater resistant or water repellent.
By customer request, our Fingerless Sun Gloves have been redesigned to include silicone print grippers on the palms and fingers for added grip and dexterity. Still made with our soft and comfortable 4-way stretch mesh construction, these sun gloves are wrist length with half finger coverage. Sun gloves provide a shield everyone can benefit from. Whether you're driving, have sun sensitivity or just enjoying the outdoors, your hands see the sun more than any other skin and thus show more aging than any other part of your body. Your hands deserve protection.
More Information

| | |
| --- | --- |
| Below Price Promo Override (Block ID) | uc-promo |
| Category Callout | NEW COLORS |
| Recommendation Content | All Coolibar fabrics are recommended as effective UV protectants only for covered areas. Coolibar is the first clothing company to receive The SCF Seal of Recommendation. |
Fabric Details
Active SUNTECT®
Lightweight and breathable with moisture wicking for quick dry performance.
Avoid swimming, not chlorine and saltwater resistant or water repellent.
MEDICAL GLOVES SIZE CHART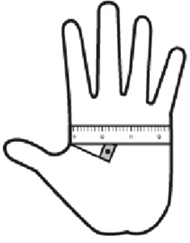 XS
S/M
L/XL
XXL
MEASUREMENTS
XS
S
M
L
XL
XXL
Palm Circumference (inches)
6 - 6 ½
6 ½ - 7 ¼
7 ¼ - 8
8 - 8 ¾
8 ¾ - 9 1/4
9 ¼ - 10
*If measurement falls between two ranges, size up.
0
Rated 5 out of 5
by
Black amp 27
from
Great product!
Bought 2 pair of these gloves almost a year ago, and just recently, within the last week quit wearing them. I used 1 pair for work and 1 pair for the weekend. Excellent product, great quality! I could probably get a few more months out of the pair for work, and another couple years out of the weekend gloves. UV protection was obvious by looking at the difference in skin tone when gloves were taken off. Very satisfied with these gloves.
Date published: 2019-06-20
Rated 1 out of 5
by
susan1
from
Dislike the new construction! Bring back the old!
I bought the old style for my spouse in the past and he loves them. He was very disappointed in the new style/construction. The thumb is a separate piece sewn onto the glove and is too big while the rest of the glove is smaller than before. Had to return them.
Date published: 2019-05-15
Rated 4 out of 5
by
Wolf
from
Good - but would like longer finger protection
I would like to request a couple of design changes for these (or a new version). I have a sun allergy that affects the backs of my hands AND the backs of my fingers - but I hate wearing fully enclosed gloves as they are too hot. I'd really like to see these gloves with a style of open palm AND finger lengths that go to the bottom of the nail bed (longer would be okay as I could roll them back to the right length).
Date published: 2019-05-06
Rated 5 out of 5
by
birder123
from
Just what I needed
I am in the sun a lot, hiking or birdwatching. These protect my hands from the sun and yet I can still use my fingertips for writing or using the phone.
Date published: 2019-04-24
Rated 5 out of 5
by
Joy 46
from
I love the gloves
My only suggestion for improvement is the stitching at end of the finger portion on one finger opening. Just a little tacky after around 10-15 washes. I always wash the gloves by hand and air dry, but i will still buy another pair.
Date published: 2019-04-09
Rated 4 out of 5
by
MyHonestOpinion
from
Good, but not for driving!
I like ALMOST everything about these gloves. They are light weight, good fit for women's hands, breathable fabric, good color, like the palm grip and fingerless functionality. However, I bought these mainly for the sun protection while I was driving on long trips and the seam that goes all around, at the base of your thumb is terribly uncomfortable while gripping the steering wheel at 10 and 2 for extended periods of time! :) I will have to look for an alternative, preferably with no seams there.
Date published: 2019-04-05
Rated 4 out of 5
by
Camassia
from
Long lasting
I have used the same pair of beige gloves for hiking for about 4 or 5 years. Especially necessary when you use hiking poles and back of hand is always exposed. Mine are now a little dingy especially the palms, the non stick surface on the palms has worn off and some of the seams have come loose so I have to re-sew. They seem to do their job? We just returned from several weeks of trekking in Tasmania and I kept my hands covered with these gloves and my hands stayed protected. I don't know if the UPF protection wears off? Maybe it is just the cover that is protecting my hands? They are comfortable, a little bit sweaty. They wear well, snag a little bit but not a problem. I like that they are fingerless for photography, eating, etc....
Date published: 2019-03-18
Rated 5 out of 5
by
Solbar
from
Pretty color, awesome styling
I bought these as a gift for my Mother for driving, after joining her to live in Arizona. I am pleased with the color, and they look very stylish on her. The palm measurement is 7 inches, size small glove fits her well.
Date published: 2019-03-10