Unisex UV Gloves UPF 50+
Unisex UV Gloves UPF 50+
is rated out of
5
by
26
.

The Coolibar Ultimate Coverage shield indicates styles used to cover the majority of your skin with UPF 50+ protection. Combine items flagged with this shield to create outfits that effectively cover 90% of your exposed skin while blocking 98% of UVA/UVB radiation.
UPF 50+
Unisex
Touchscreen compatibility makes for easy convenience
Silicone print on palm and fingers for added grip and dexterity
Soft, comfortable, 4-way stretch mesh construction
Ultra lightweight
Sold as a pair
Knit SUNTECT®: Lightweight and breathable with moisture wicking for quick dry performance

Cooltect

TM

technology accelerates moisture wicking

White Blocks 98% of UVA/UVB rays; Beige Blocks 94% of UVA/UVB rays
Polyester/Spandex Blend
Easy care: machine wash, tumble dry
Imported
By customer request, our UV protective gloves have been redesigned to include silicone print grippers on the palms and fingers for added grip and dexterity. Touchscreen compatibility in the pointer finger and thumb tips are an easy convenience, so you may leave you UV Gloves on while using your electronics. Still made with our soft and comfortable 4-way stretch mesh construction, these sun gloves are wrist length with full finger coverage. UV Sun gloves provide a shield everyone can benefit from. Whether you're driving, have sun sensitivity or just enjoying the outdoors, your hands see the sun more than any other skin and thus show more aging than any other part of your body. Your hands deserve protection.
More Information

| | |
| --- | --- |
| Color Code | No |
| Color | N/A |
| Fit | No |
| Below Price Promo Override (Block ID) | uc-promo |
| Size Code | No |
| Category Callout | No |
| Quantity Price Break Message | No |
| Recommendation Content | Coolibar is the first clothing company to earn the Skin Cancer Foundation's Seal of Recommendation. |
Fabric Details
knit SUNTECT® Lightweight and breathable with moisture wicking for quick dry performance.
Recommended for: fitness, tennis, golf, basketball, jogging, power walking, cycling, yoga and outdoor sports activities
Avoid: swimming, not chlorine and saltwater resistant or water repellent.
MEDICAL GLOVES SIZE CHART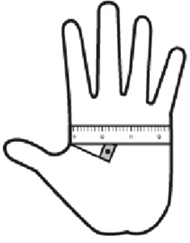 XS
S/M
L/XL
XXL
MEASUREMENTS
XS
S
M
L
XL
XXL
Palm Circumference (inches)
6 - 6 1/2
6 1/2 - 7 1/4
7 1/4 - 8
8 - 8 3/4
8 3/4 - 9 1/4
9 1/4 - 10
*If measurement falls between two ranges, size up.
0
Rated 5 out of 5
by
OldRed56
from
Awesome gloves
I bought these to replace two pair I bought years ago. These are so much better. They have more stretch so they fit better. The techno fingertips are great for the cell phone. Should buy another pair to switch off to wash.
Date published: 2018-04-24
Rated 5 out of 5
by
charlee
from
Love these for driving
I bought these in a medium a few months to protect my hands while driving. They fit great, aren't hot and accommodate any ring I am wearing. However, I really wish they came in more colors, as I am always getting lipstick and coffee on them.
Date published: 2018-03-27
Rated 5 out of 5
by
Mayoosh
from
Lightweight, breathable, great protection
Breathable, not causing sweat or any thing. Hands feel amazing. Cute design. I'd recommend it to friends. Tip: if your size fall between two sizes, choose the smaller size.
Date published: 2018-03-25
Rated 5 out of 5
by
Sonja
from
Gloves
I wear these to drive and they are very lightweight and comfortable
Date published: 2018-03-11
Rated 2 out of 5
by
Kyra
from
Too short for serious sun protection
I have been a loyal Coolibar customer for five years and am usually impressed with their attention to full coverage for those who need it. I have systemic lupus that gets triggered by even the tiniest bit of exposure to the sun. Coolibar used to make gloves of this lightweight material (without texting pads) a few years ago that were the perfect long length to meet a shirt or jacket sleeve without exposing skin. Now the only long option is the super thick Full Finger Glove. My ideal would be those same lightweight long gloves with texting pads. Spring is coming and I don't know what I'm going to do. I thought about purchasing the fingerless pair and combining those with the gloves, but that seems like overkill.
Date published: 2018-03-03
Rated 5 out of 5
by
kstreit
from
Light weight enough for summer
These gloves are great! I'm so nervous about sun exposure on my hands. These are lightweight and fit like a glove. ;-) I'm thinking about getting the fingerless gloves to wear for when I get a gel manicure.
Date published: 2017-10-25
Rated 3 out of 5
by
ProfLitty
from
Seams are splitting
I bought these in April because I owned the previous version of beige gloves that only came in combined sizes of non-stretch fabric (and hence were too floppy) and only came with an inexplicable large opening in the palm, before the conductive finger pads also. I bought these new snug, stretchy, soft gloves with a better matching skin color and loved them for about a month until I was on vacation and the seams started splitting and I discovered how thin and weak the cotton thread is. The index finger on the right hand basically unraveled on my 9-day trip, and the middle finger is splitting also. I can't send them back without buying another pair first, because I have a sun allergy; unfortunately my previous gloves that were too loose and kind of dingy by now--I lost one pair and am missing a right glove on the next pair.
Date published: 2017-06-24
Rated 5 out of 5
by
jc Indy
from
Functional and sun protective!
You may not even think about needing sun protective gloves, but think about how often you're driving in your car and the sun is coming in. See any "age" spots forming on your hands? Get these gloves!
Date published: 2017-06-01