Unisex UV Gloves UPF 50+
Unisex UV Gloves UPF 50+
is rated out of
5
by
34
.

The Coolibar Ultimate Coverage shield indicates styles used to cover the majority of your skin with UPF 50+ protection. Combine items flagged with this shield to create outfits that effectively cover 90% of your exposed skin while blocking 98% of UVA/UVB radiation.
UPF 50+
Unisex
Touchscreen compatibility makes for easy convenience
Silicone print on palm and fingers for added grip and dexterity
Soft, comfortable, 4-way stretch mesh construction
Ultra lightweight
Sold as a pair
Knit SUNTECT®: Lightweight and breathable with moisture wicking for quick dry performance

Cooltect

TM

technology accelerates moisture wicking

White Blocks 98% of UVA/UVB rays; Beige Blocks 94% of UVA/UVB rays
Polyester/Spandex Blend
Easy care: machine wash, tumble dry
Imported
By customer request, our UV protective gloves have been redesigned to include silicone print grippers on the palms and fingers for added grip and dexterity. Touchscreen compatibility in the pointer finger and thumb tips are an easy convenience, so you may leave you UV Gloves on while using your electronics. Still made with our soft and comfortable 4-way stretch mesh construction, these sun gloves are wrist length with full finger coverage. UV Sun gloves provide a shield everyone can benefit from. Whether you're driving, have sun sensitivity or just enjoying the outdoors, your hands see the sun more than any other skin and thus show more aging than any other part of your body. Your hands deserve protection.
More Information

| | |
| --- | --- |
| Color Code | No |
| Color | N/A |
| Fit | No |
| Below Price Promo Override (Block ID) | uc-promo |
| Size Code | No |
| Category Callout | No |
| Quantity Price Break Message | No |
| Recommendation Content | All Coolibar fabrics have been approved as an effective UV protectant for covered areas. Coolibar is the first clothing company to receive The SCF's Seal of Recommendation. |
Fabric Details
knit SUNTECT® Lightweight and breathable with moisture wicking for quick dry performance.
Recommended for: fitness, tennis, golf, basketball, jogging, power walking, cycling, yoga and outdoor sports activities
Avoid: swimming, not chlorine and saltwater resistant or water repellent.
MEDICAL GLOVES SIZE CHART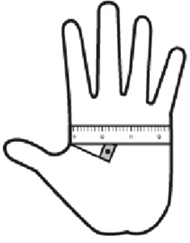 XS
S/M
L/XL
XXL
MEASUREMENTS
XS
S
M
L
XL
XXL
Palm Circumference (inches)
6 - 6 1/2
6 1/2 - 7 1/4
7 1/4 - 8
8 - 8 3/4
8 3/4 - 9 1/4
9 1/4 - 10
*If measurement falls between two ranges, size up.
0
Rated 5 out of 5
by
Mimi W
from
Love these!
I recently bought these so I could use my phone and stay protected. I like the gloves, but the fit is kinda weird. The gloves fit across the hand. But the fingers are always twisting and so it doesn't work with my phone consistently.
Date published: 2018-08-10
Rated 5 out of 5
by
Dolce girl
from
Love them
So glad I bought these. I live in California and travel to the desert a lot. These are great for driving and you can also text with them on. Sizes run true to what coolibar lists.
Date published: 2018-07-23
Rated 5 out of 5
by
betonme
from
Love these gloves, but....
I have more than one pair and use them all the time in our warm sunny climate, but the fingerless ones aren't long enough to protect anything except the back of the hand and barely past the wrist. I have a pair of longer ones with fingers, but they don't have touch screen so I have to pull them off if my phone rings and blue tooth doesn't pick up the call. Coolibar in general is a great product, even my dermatologist uses them.
Date published: 2018-06-25
Rated 5 out of 5
by
DAW1
from
Really Pleased with these gloves
Had to wait for the gloves, but I am glad I purchased them. I wear them mainly while driving to protect my hands and they are very comfortable and like the grip on the palm side. I also use them while walking and was asked if they made me warm in the hot weather. My answer was they are actually cool and very comfortable. I can also use my cell phone quite easily. I would say the gloves, the long sleeve t-shirts and sleeves are my favorite items. I am new to Coolibar and have tried a few things now.. There are a few items that seem way too pricey but I do like my gloves!
Date published: 2018-06-17
Rated 4 out of 5
by
carl888
from
Cuffs too short otherwise good
Last month I bought the M size white gloves. I use them mostly for driving. The fit is good, and the touch screen pads work w/my cell phone and car GPS. I thought the whole point of wearing sun protection is to block the harmful UV and stay cool, so I don't have an issue w/the "Michael Jackson" white color like the previous reviewer. However, I did notice that the cuffs of the gloves are a bit short. I tried pulling my long sleeves over the gloves, and vice versa, but after moving my arms for a while, the long sleeves would ride up my forearms and exposed a small gap between the glove cuffs and the sleeve cuffs. Protection can't be complete if there is a gap! I think extending the glove cuffs by an extra inch would definitely help here. Not gonna go through the hassle of returning these, so I'll keep using them until an improved version comes out.
Date published: 2018-06-16
Rated 5 out of 5
by
PE Rocks
from
Best gloves ever!
I bought these gloves last August and I wear them everyday, all day, at work. I am a P.E. teacher and I wear them all day outside and when driving, riding in the car. They have lasted an entire school year with only 2 holes in the finger. This is outstanding as I have them on to do everything with my students. I have tried other gloves that have not stood up even 1/3 as well. A darker color would work better for me as they do get dirty wearing them all day (just a suggestion). Thank you for these gloves. They have made a huge difference in the condition of the skin on the back of my hands.
Date published: 2018-06-08
Rated 5 out of 5
by
Granny M
from
You Can't Have Too Many
These gloves are so great, I can't get my hands on them; they are sold out! They don't take back-orders either! So buy all you can get your hands on! Good luck!
Date published: 2018-04-27
Rated 5 out of 5
by
OldRed56
from
Awesome gloves
I bought these to replace two pair I bought years ago. These are so much better. They have more stretch so they fit better. The techno fingertips are great for the cell phone. Should buy another pair to switch off to wash.
Date published: 2018-04-24