Unisex Fingerless Gloves UPF 50+
Unisex Fingerless Gloves UPF 50+
is rated out of
5
by
38
.

The Coolibar Ultimate Coverage shield indicates styles used to cover the majority of your skin with UPF 50+ protection. Combine items flagged with this shield to create outfits that effectively cover 90% of your exposed skin while blocking 98% of UVA/UVB radiation.
UPF 50+
Unisex
Lycra® elastane provides four way stretch and form fit
Breathable knit fabric
Form fitting and lightweight enough to do most small-motor tasks
Full wrist coverage for added protection
Supplex® nylon feels cottony soft
Water resistant high tech sport fabric wicks away moisture
Small pliable silicone ovals integrated seamlessly into the palm side to provide users with a secure grip
Easy care: Machine wash, dry low heat or line dry
Imported
The Unisex Fingerless Gloves are wrist length, half finger gloves that guard against sun damage, scratches, and irritants. Covers and protects chronic skin conditions while providing snug support. Fingertips remain open for excellent dexterity. Benefits people with arthritis, eczema, vitiligo, sun sensitivity and contact dermatitis. This glove is especially helpful with day to day tasks and is excellent as a driving glove.
More Information

| | |
| --- | --- |
| Color Code | No |
| Color | N/A |
| Fit | No |
| Below Price Promo Override (Block ID) | uc-promo |
| Size Code | No |
| Category Callout | No |
| Quantity Price Break Message | Save $5.00 each on 2+ |
| Recommendation Content | Coolibar is the first clothing company to earn the Skin Cancer Foundation's Seal of Recommendation. |
FORM FITTING UNISEX GLOVE SIZE CHART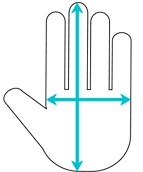 MEASUREMENTS
S
M
L
WIDTH (inches)
2 1/2
3
3 3/4
LENGTH (inches)
6 1/2
7
7 1/2
Width = Across palm
Length = Tip of middle finger to base of palm
0
Rated 5 out of 5
by
Nanacina
from
Favorite gloves!
I keep a pair in my car and my purse. Please bring these back in black. The lighter colors show every little smudge and need washing more frequently.
Date published: 2018-06-15
Rated 4 out of 5
by
karen517
from
love the gloves and the coverage
I bought the gloves @ a month ago and I love them. I bought the white gloves and have been hand washing them and noticed yesterday the Collibar emblem is peeling off of one glove.
Date published: 2018-06-04
Rated 4 out of 5
by
SDhiker
from
Handy!
I bought these fingerless gloves a month ago and I keep them in my car. The fabric is very comfortable worn and the rubber bumps make using them while driving very easy (grippy on the steering wheel). The sizing guide was very accurate for hand width, but I find the finger holes a little too snug for comfort.
Date published: 2018-06-03
Rated 4 out of 5
by
Virginian
from
Suggestion to make these even better, please!
As an extremely fairskinned fitness walker, I've worn these and sun gloves from other manufacturers every time I go outside, drive, etc., for several years now. For me the Coolibars are the overall best for lightweight fabric, fit, protection and comfort. My only wish is that they be offered in a dark color such as black, as they tend to look grimy fairly quickly. My husband would also have bought some if they'd come in black or very dark grey. Thanks!
Date published: 2018-05-21
Rated 5 out of 5
by
Anhara
from
So far great
I have vitiligo, and two big rescued pups that i need to walk daily outside every morning & at also at night. But my dermatologist had told me i can not be in the sun (im doing skin trearment to my hands). So the gloves have brought me peace of mind. I wear them every single morning. [Miami, Florida].
Date published: 2018-05-16
Rated 4 out of 5
by
Malinda
from
My favorite gloves!
I have lupus, as well as a condition that causes blisters on my skin with exposure to sunlight. I live in Coolibar clothing all year round, and have been through many different styles of gloves over the last year. These gloves are my favorite design so far. They cover my wrists without being TOO much fabric. I can fit the wrist coverage over my watch and bracelets. The gloves maintain their shape without stretching. I love the grips on the palms as well. The only thing I would like to change is higher finger coverage. I get blisters all the way up my fingers and would LOVE a design that brought finger coverage higher up (maybe right below the nail bed, but at least to the distal knuckle) without being a full glove. I love having my fingertips free in these gloves, but withbhe finger coverage only to the middle knuckle, I find too much of my fingers exposed. I appreciate so much thoughtful design being put into the Coolibar products.
Date published: 2018-05-06
Rated 5 out of 5
by
RD in SoCal
from
Cool and Comfy Sun Protection
I love these! I had laser treatment to remove sun spots on my hands and have been wearing these gloves ever since while driving and walking outdoors. They are so cool and comfortable I forget I'm wearing them. I wish they were available in black.
Date published: 2018-04-04
Rated 5 out of 5
by
BigJoe
from
I'm Converted
I'm a guy who spends a lot of time outdoors and out on the water. I'm fair skinned and now find dark sun spots on my hands so I thought to give these a try -- I now use them for when I'm out on the water (not swimming but everything else) - they match my skin close enough so they don't stand out and work great (hardly feel/notice them when wearing). I'm a big guy and size L fit perfect. Totally converted.
Date published: 2018-03-21